Jules Mitchell is "a student for life". She is a massage therapist, yoga teacher and educator.
She holds a Master of Science in Exercise Science and Biomechanics from CSU Long Beach and teaches numerous workshops that combine the tradition of yoga (asana and pranayama) with her knowledge of biomechanics to educate teachers in a fun digestible way.
Jules practiced yoga for many years and at a certain point in her life felt the need to teach. The teacher training brought up so many questions for Jules that she says weren't satisfactorily answered and realized she would have to turn to academics to answer them.
Jules came to realize and accept that there will always be a lot of questions that are unknown and one will always be learning. She tells her students at the beginning of her workshops that if they don't leave there with more questions then she hasn't done her job. Jules wants to impress upon yoga teachers the need to question more, the importance of scientific literacy, critical thinking and curiosity.
Shannon and Jules talk about how there are no bad poses, the importance of cueing (talking less and listening more), and questioning how poses are taught. Jules gives us an excellent example by discussing whether you keep your legs straight or bend them when performing a forward fold. Her explanation using scientific research illustrates the importance of science-informed teaching and the benefit of reading studies in a field that is ever-evolving.
Jules wants to help inform you to make your own choices as a yoga teacher, not to overwhelm you. She is working on an upcoming book tentatively titled Yoga Biomechanics: Redefining Stretching which moves far beyond what is generally understood about stretching. She explains the mechanical properties of connective tissue, the material science, the composition and architecture of tissue and emerging ideas and research along with yoga sequences. She hoping to release this information-packed book in 2018.
Extend Your Learning: Online Education With Jules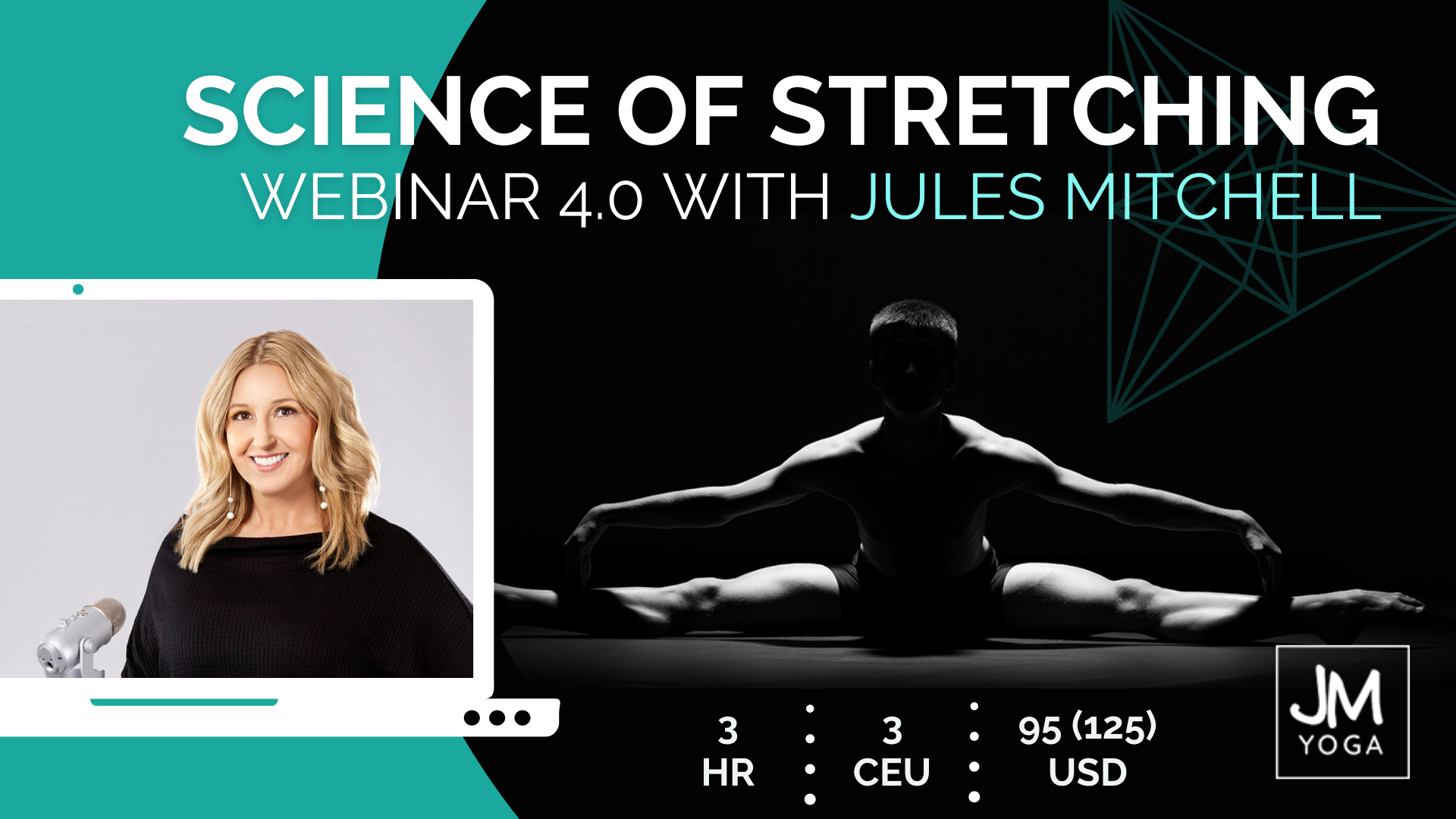 The Science of Stretching Webinar 4.0
This webinar is for teachers and students who have an insatiable curiosity about stretching, what it does, and how it works, while accepting that conventional stretching wisdom isn't always accurate. Eligible for 3 CEUs. This course is offered in January and July each year. Learn more >