The Science of Stretching
Are you confused by mixed messaging around stretching? Are you feeling pulled between two opposing narratives and aren't sure who is right? Put an end to all the frustration and just get the facts. Jules delivers the latest research combined with the education necessary to help you make sense of it all and empower you to think for yourself.
July 27, 2023
January 31, 2024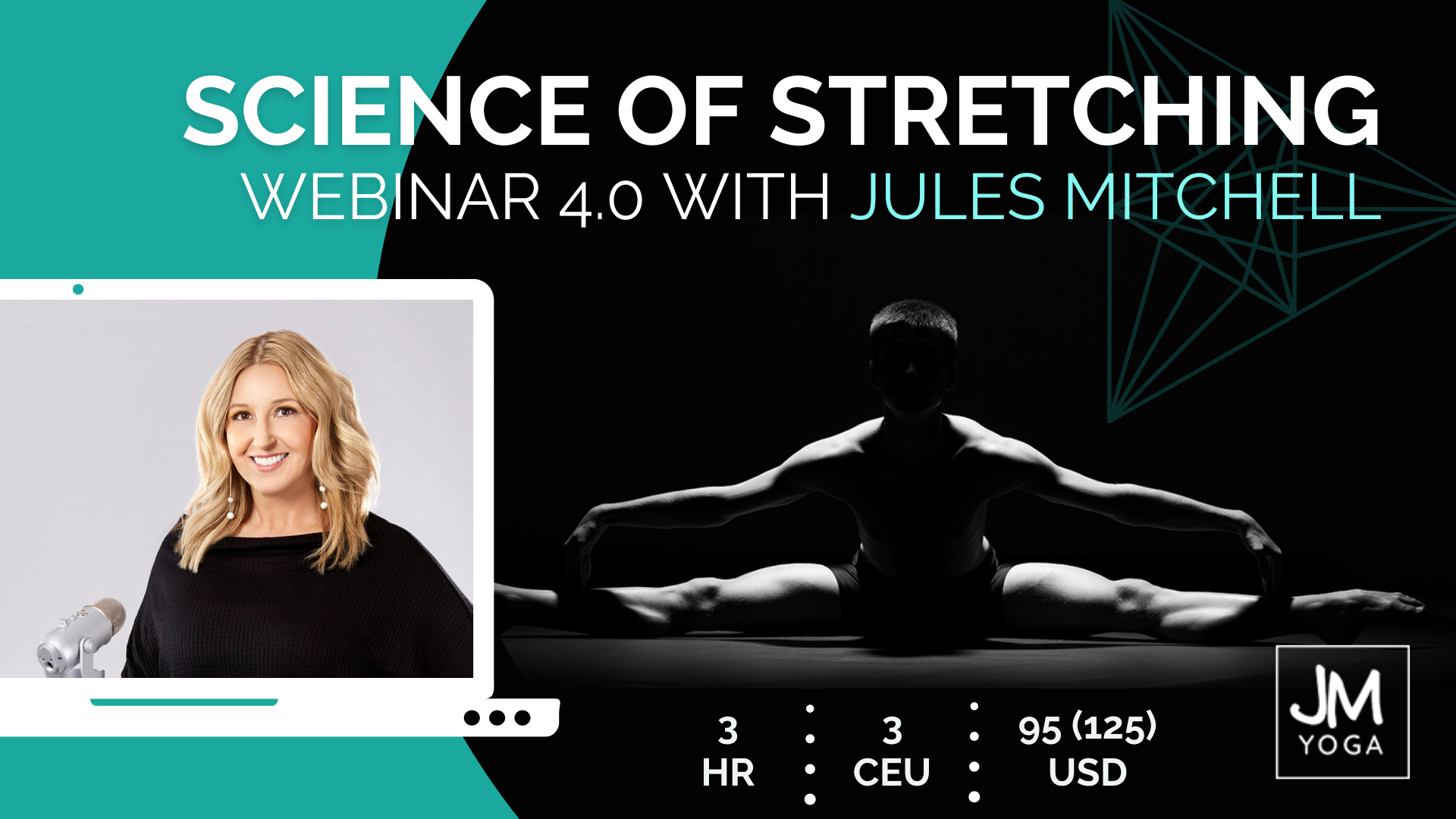 The Science of Stretching 4.0
3-hours, always updated, real-time interaction with Jules and 3 CEU's.
Choose from two different dates:
 Thursday July 27, 2023
11:00am – 2:00pm Pacific Time
$95 USD before July 15, 2023
($125 USD after)
 Wednesday January 31, 2024
11:00am – 2:00pm Pacific Time
$95 USD until January 17th
$125 USD after
Why active stretching is not superior to passive.
The various types of stretching and how they work.
How stretching does not
lead to hypermobility.
How To Know If This Stretching Webinar Is For You:
Are you frustrated with conflicting statements around stretching?
Are you not sure who to believe?
Have you been told stretching makes you hypermobile?
Are you worried about doing a disservice to your students by having them stretch?
Are you unsure of what to make of the latest stretching fad (i.e. CARS or active ROM)?
Have you tried to help your students get more flexible, but aren't seeing results?
Do you doubt the claims that stretching fixes posture?
Are you the type of teacher that wants to know why?
Are you curious about what the research actually says about stretching?
Do you want to know what type of stretching to use, when, for whom, and for what outcome?
If you answered yes to any of these questions you will love the information I provide in this webinar.
It's always updated to reflect the latest research and address the latest fads. Right now, it's called 3.0, but don't be surprised if you show up and I'm calling it 3.5 or 4.0.
I keep my finger on the pulse so you don't have to.
Just sit back and absorb the education. Feel free to ask real-time questions and share your experience.
Properly define overstretching.
You aren't tight, you feel tight.
Redefine stretching as tension.
Course Objectives
This webinar is for teachers and students who have an insatiable curiosity about stretching, what it does, and how it works, while accepting that conventional stretching wisdom isn't always accurate.
This webinar will teach you to:
Distinguish between the different types of stretching
Categorize non-stretching activities as tensional loads
Discuss the various thoughts behind limited range of motion
Examine the effects of stretching on performance
Consider the term overstretching in a variety of contexts
Understand the role of muscle spindles in the feeling of tightness
Jules Mitchell, MS, LMT, ERYT 500 is a regular contributor to yoga teacher training programs worldwide, providing yoga schools with the most current research in biomechanics.
How ROM depends on
many factors.
Does stretching make you
weaker and slower?
Improve flexibility without stretching.
Course Description
This online webinar is available twice per year and is continually revised and updated. The webinar focuses primarily on stretching and Jules' interpretation of the research, covering nearly 100 slides complete with references when scientific studies are mentioned. The webinar is intended to be live as Jules addresses questions in real time via the webinar Q&A function. The webinar is constantly evolving as Jules continues to research the subject of stretching, strengthening, training, adaptation, injury, rehab, and pain – but as her narrative has become more refined, she has been able to condense the length of the webinar without losing any content. While this is the Science of Stretching 3.0, participation in the earlier iteration is not required. Anyone can register! Includes downloadable/printable PDF handout of entire slideshow and access to the recording for 30 days.
Course Topics
Active vs. passive range of motion
Performance and injury
Stretch tolerance
Muscle physiology
Stretching techniques
Proprioceptive Neuromuscular Facilitation (PNF)
Reciprocal inhibition and autogenic inhibition
Eccentrics
Connective tissue histology
Stress, strain, and time dependent outcomes
Includes PDF of the entire slide deck.
Recording available for 30 days.
The Perfect Learning Path For You
My goal is to expand teachers' minds through a deep process of reflection so that they know exactly who they are and what they believe with clarity, confidence, and purpose.
You can start your education path with me anytime that fits into your schedule and on any topic that you're drawn to.
Learning to Learn
The biomechanics content I provide is about more than just learning facts and getting things right. I teach you how to think about this knowledge, how to apply it in certain settings, and how to question when specific strategies might be successful or not. When I teach that "it depends" I insist on supporting you in discovering what it might depend on.
Learning in Layers
You learn in layers, which means wherever you start is the perfect place to start. You learn a new concept and then contextualize that information into a real-life setting, recognizing that biology is multidimensional and non-linear. You aren't just memorizing data and you aren't just jumping to large, sweeping conclusions. You are learning to make complex decisions based on appropriate considerations, which means there is no beginning or end. Just dive in and let the layering begin!
Learning Overlap
While all of my courses are unique, there is overlap in many major themes. This overlap reinforces major concepts within individual courses that fit into a the much larger narrative that I build within my program offerings as a whole.
Learning Just for You
My live courses reflect my fluid teaching style. While I always have an agenda and a general course outline, I'm also extremely encouraging of asking questions and chasing the pursuit of knowledge together. My goal is to help you refine your questions so you are clearer about what you know and what you don't know. This means no two live courses are the same, even when the course has the same name!
The content is always driven by the topics that matter to the group and we use the major concepts outlined in the course syllabus to tease out powerful educational opportunities. You'll see people repeating the same courses over and over because they are hungry for these interactions and discussions.