Jules Mitchell MS, CMT, ERYT500 is a Las Vegas based yoga teacher, educator and massage therapist. Her unique approach incorporates her extensive study in biomechanics with the modern application of yoga asana to help teachers develop their craft and empower them with education. Jules' methods intend to achieve ease in movement through deliberate loading, thus her teachings integrate numerous modalities, balancing the somatic aspects of yoga with the most current exercise science. She leads workshops and continuing education courses worldwide, providing yoga schools with the most current research in biomechanics. Jules is the author of Yoga Biomechanics: Stretching Redefined, available now through Handspring Publishing.  She is also adjunct faculty at Arizona State University where she serves as the yoga consultant on various research studies.  If she's not teaching workshops at your favorite local studio any time soon, you can access a variety of her programs online.  Learn more about Jules Mitchell.
300 hour teacher training program for 2022:
Jules Mitchell's 300 hour advanced yoga teacher training for the 2022-2023 season is now open for registration. It's all online, meets approximately 2 days per month for about a year, and starts June 7-8, 2022. The training includes 2 required modules hosted by Jules and her guest faculty, a 3rd elective module hosted by an indigenous yoga teacher, and homework. Content is heavy on biomechanics, principles of exercise science, applications of pain science, neurophysiology, pathology, and stretching. Get more info here
October 27-29, 2022 in Colorado Springs, CO
In-Person Tissue Mechanics Anatomy Lab
This course is for yoga teachers and committed students who wish to observe the mechanical properties of human connective tissue and get a visual and tactile sense of human movement. The program includes a group Zoom meeting before and after the lab plus content related reading. Eligible for 20 CEUs.
Featured Online Education Programs: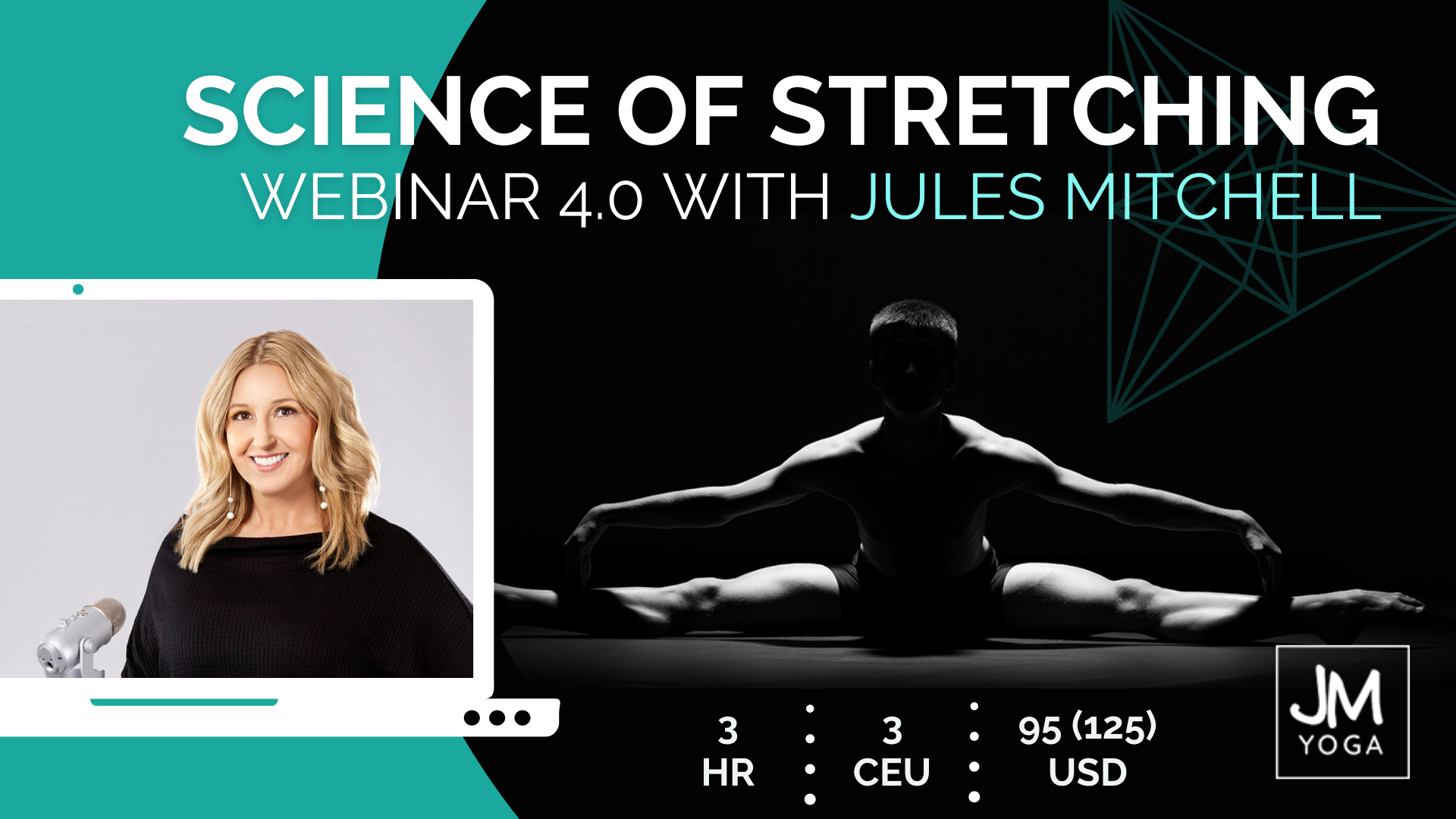 The Practice Collection Volume 1:
February 6-11, 2023 for 5 nights
Monday arrival – Saturday departure
Cancun Mexico with Jules Mitchell and Trina Altman
Join us for a 5-day yoga retreat at a luxury all-Inclusive resort in the heart of Cancun, Mexico! Enjoy the warmth of the Caribbean sun, spend your afternoons by the pool, on the beach, or at the spa between yoga classes. Look no further for an epic yoga retreat offering amazing yoga, relaxation, and gorgeous accommodations!  December 1st early registration deadline.
Watch 100+ yoga practice and instructional videos on:
They Physiological Adaptation of Tissue When Loads Are Applied
How To Understand The Mechanical Forces of Tension and Compression
How To Apply Force Vectors In Yoga Poses
What The Shape Of A Pose Can't Tell You
Joint Positions and Force Vectors In Yoga Poses
Prop Ideas for Bird of Paradise
How To Differentiate Joint Positions & Identify Contraction Types
The Timeline Of Tissue Adaptation
Why The Way You Interpret Research Matters When You Study Yoga

Learn with Jules Mitchell
A large portion of Jules' work schedule includes traveling all over the world teaching both current yoga teachers and aspiring yoga teachers about biomechanics and anatomy.
Jules
Mitchell delivers top-notch online education for yoga teachers in biomechanics, sports science, stretching, and injury prevention/rehab.
Choose from articles and podcasts on the latest research in yoga, biomechanics, and exercise science. By reading, commenting and sharing, you are supporting scientific literacy and contributing to the yoga community. Thank you!
Explore hours of free and premium content for your yoga practice on:
Practice Collection Vol. I
Yoga Detour
Udaya
Yoga Anytime
Jules' YouTube Channel