"Look at what your practice is doing for you, but be honest about what it's not doing and add that into your life." – Jules Mitchell
The Mindful Strength Podcast
welcomes back Jules Mitchell. Jules is an educator, scientist, yoga teacher, movement professional and soon to be published author. We had such huge community response to some information that Kathryn and Jules touched on in their 2017 interview relating to injuries and pain, and knew we couldn't wait long to speak with Jules again.
In response to Kathryn's lead question on whether or not injuries and pain are correlated, Jules references her own experiences with injuries (namely a "torn" rotator cuff), and how that has informed her opinions, research, teaching, practice, perceptions of how the body functions and ultimately the complexity of the mind-body connection. This episode has lots of great information and perspective on yoga, biomechanics and loading our joints, including a deep dive into the variabilities and subjectivity of tissue adaptation, tolerance to load, progression versus protection, pain, and the personal experience factor. Jules goes on to provide details and technicalities on the aforementioned topics (anthropometrics anyone?), as well as some open ended questions about joints and tissues, in asking what it means to be keeping our joints "safe."
One of the many reasons we love Jules is because she always keeps it real – she and Kathryn speak candidly on how much we don't actually know and on the anger and demonization of yoga from members of the community who have been affected by injury or misinformation, offering up advice and validation for those who carry these sentiments.
What always stands out is Jules commitment to research, education, critical thinking, assessment and reassessment, embodiment, self-awareness, variety in practice, and to seeing and treating the body as a whole, versus the sum of its parts.
In this episode…
In case you missed it, find our first episode with Jules HERE.
Jules Mitchell \\ julesmitchell.com
Jules first book, Yoga Biomechanics: Stretching Redefined, is due out Fall 2018.
Resource \\ Journal of Strength and Conditioning Research
Extend Your Learning: Online Education With Jules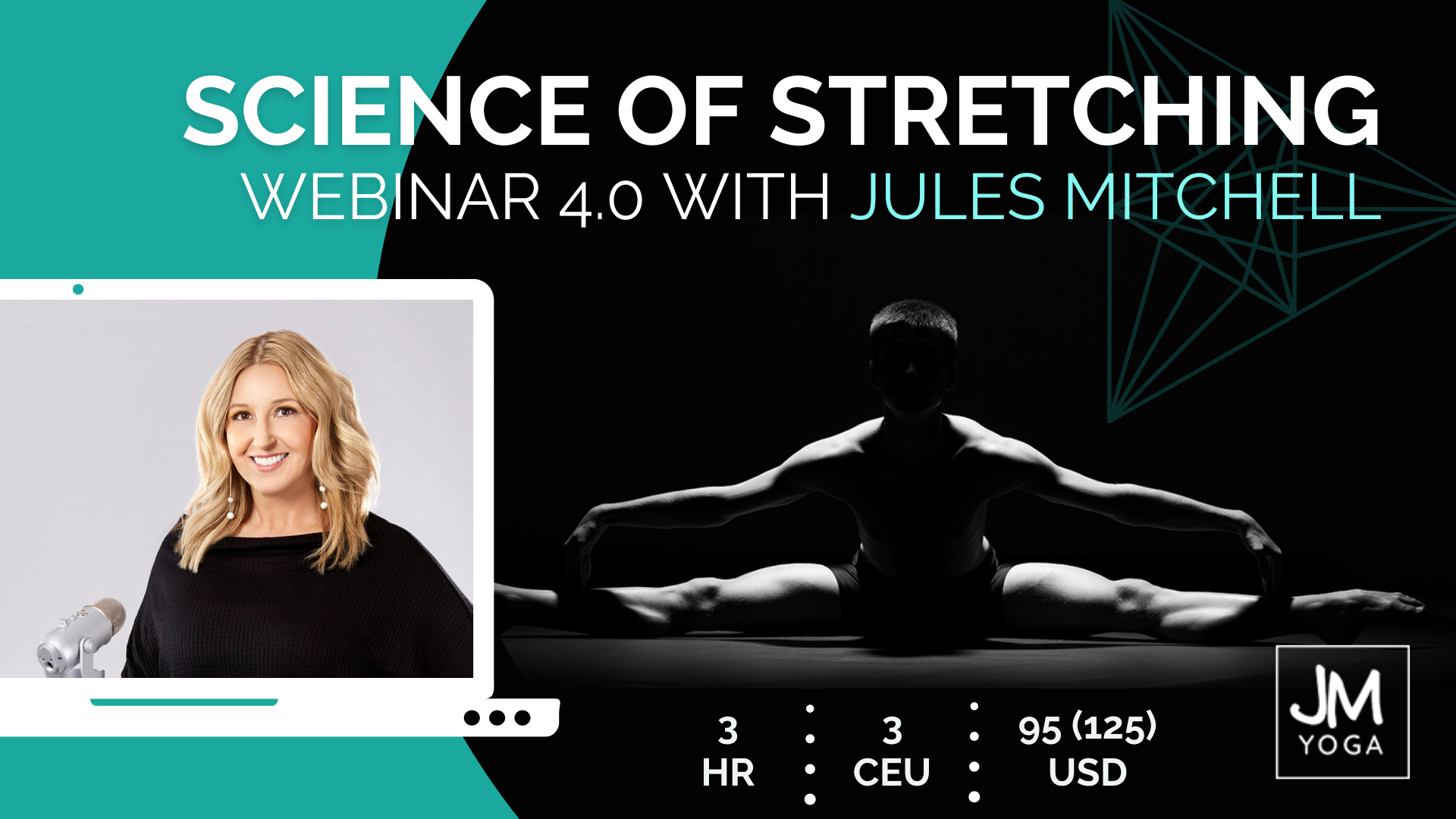 The Science of Stretching Webinar 4.0
This webinar is for teachers and students who have an insatiable curiosity about stretching, what it does, and how it works, while accepting that conventional stretching wisdom isn't always accurate. Eligible for 3 CEUs. This course is offered in January and July each year. Learn more >