Graduate Cadaver Lab
This course is exclusively for graduates of Jules Mitchell's 300hr yoga teacher training who wish to observe the mechanical properties of human connective tissue and get a visual and tactile sense of human movement.
Sign Up | June 2024
More Info | Las Vegas
Tissue Mechanics Anatomy Lab
4 Days and In-Person in Colorado Springs
Explore connective tissue mechanics, musculoskeletal anatomy, and breathing mechanics in a hands-on in-person cadaver lab. Eligible for 28 CEUs upon completion.
 Tuesday – Friday
June 25-28, 2024
10am – 6pm local time
 $1500 USD
$1800 USD after March 1, 2024
If selecting the installment plan,
the first payment is due by September 1, 2023
Institute for Anatomical Research
1490 W Fillmore St #130
Colorado Springs, CO 80904
Fly into either Denver (DEN) or Colorado Springs (COS).
Please do not book any non-refundable travel/accommodations
until the course has been confirmed.
The price includes Colorado lab only. The Las Vegas gathering is a separate registration. You are not required to do both. If you can only attend one, I suggest the Las Vegas gathering as there will be many more lab opportunities. Learn more about the Las Vegas graduate gathering or other lab opportunities.
See, feel, and stretch connective tissue.
Disassemble and dissect an
SI joint to look inside.
Inflate and deflate the lungs; make the cadaver "breathe."
In this 3-day course, we will dissect:
Superficial fascia
Deep fascia
Muscles and tendons
Joint surfaces
Joint capsules and ligaments
Bones
Heart and lungs
If you wish to explore a specific structure not on the list above, that can be arranged as a personal side project for you with prior communication.
Choose your own dissections.
Learn from skilled assistants.
Course Objectives
This course is for yoga teachers and committed students who wish to observe the mechanical properties of human connective tissue and get a visual and tactile sense of human movement. The program includes a group Zoom meeting before and after the lab plus content related reading.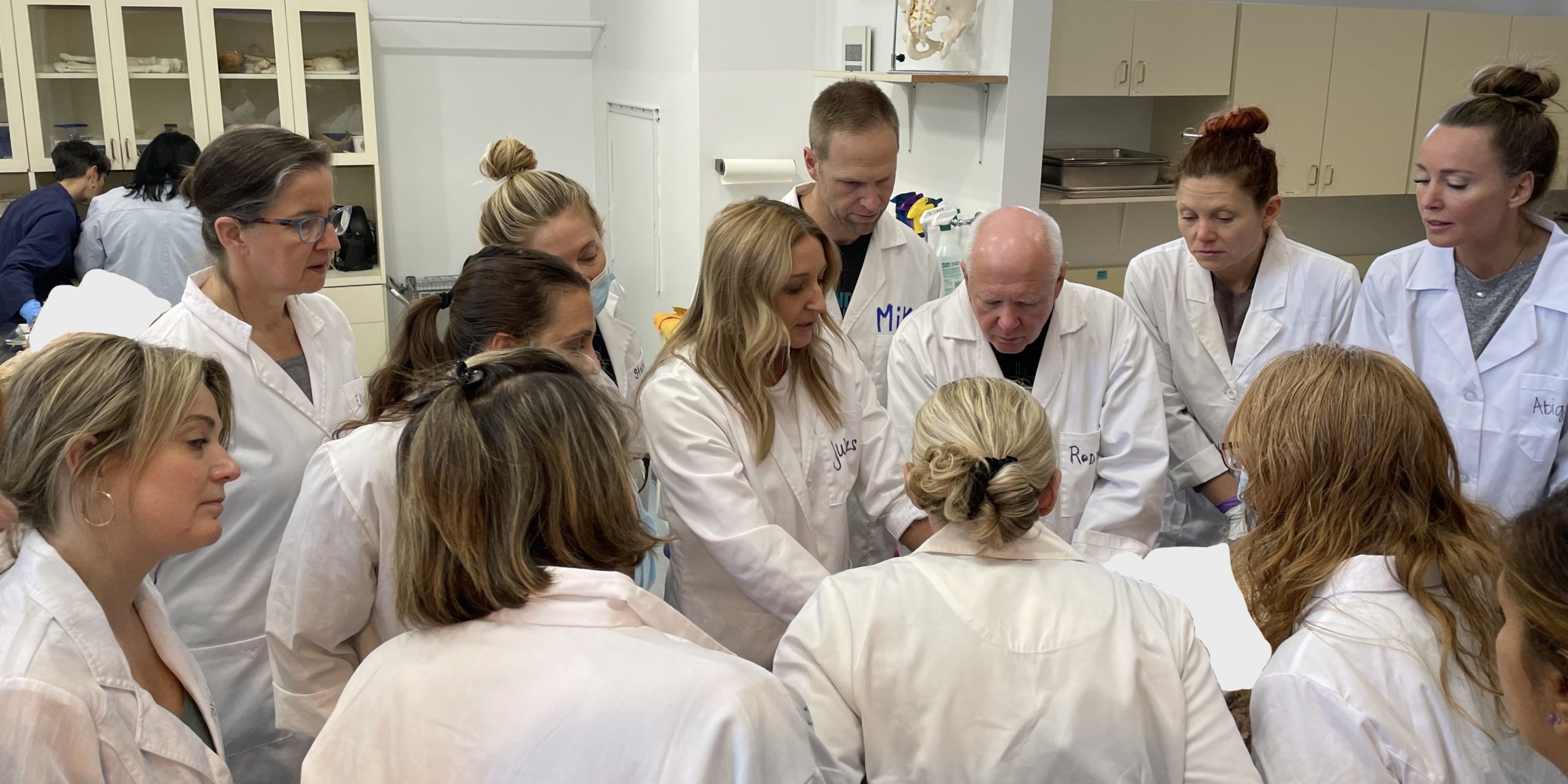 Course Description
In this lab, you will dissect specific anatomical structures of an embalmed cadaver. Jules and her team will prepare the cadaver prior to your arrival each day to reflect and present the specific structures noted on the course itinerary. You will have the opportunity to touch, feel, and dissect yourself, although some prefer to spend most of their first time in the lab watching and listening. However you choose to take in the content, you'll walk away with a greater understanding of anatomy and biomechanics, especially as it relates to how we teach yoga. Jules will host a Zoom meeting prior to the lab, as well as after the lab, and will assign small sections of reading for discussion during the lab. You can expect to engage in discussion such as:
Connective tissue behavior and stretching

Muscle continuity, fiber direction, and function
Specific joints such as the shoulder, knee, hip, and more
The psoas and whether it deserves its fame
The poor misunderstood upper trap
The incredible SI joint
Synovial fluid and joint capsules
Anything and everything about the spine and vertebral discs
The connection of the heart, lungs, and diaphragm
Layers of the abdominal wall
The role and evolution of the IT band
Identifying capsular muscles
Labrums, menisci, and bursae
The vagus nerve
Nerve plexuses 
The pelvic floor
The plantar fascia
2 x 60 minute group Zoom meetings led by Jules

4 full days in the lab led by Jules
Several lab assistants for extra support
Lab tools and equipment

Suggest reading from Jules' book related to the course work

Access to a private social network for this special cohort 
Lab coat and gloves
A copy of Jules' book
Travel to and accommodations in Colorado Springs, CO
How To Know If A Cadaver Lab Is Right For You
Do you think you know nothing about anatomy?
Do you think you know everything about anatomy?
Do you find textbooks to be painfully dry and two-dimensional?
Are you in awe of the human body?
Are you curious about human movement?
Have you heard the spine is unstable?
Have you heard the knee joint is fragile?
Have you wondered what happens to musculoskeletal tissue when we age?
Can you picture what tendinopathy, osteoarthritis, or a bulging disc looks like?
Are you skeptical of overcomplicated models of human movement?
Are you skeptical of oversimplified models of human movement?
If you answered yes to any of these questions, this lab is for you.
The primary concern I get is about knowing too much or too little anatomy. The lab has a way of leveling the playing field. Everyone sees something they have never seen before and everybody learns from the curiosity of others. A beginner's eye can often see things in a way that the expert's eye can't, and vice versa.
The second concern is usually about the ick factor. Since these cadavers are fixed (embalmed) there is little to no blood and pathogens have been chemically cooked. If you have ever changed a diaper, picked up after a pet, or held a heaving drunk girlfriend's hair back, you've experienced grosser things than you'll encounter in the lab. That said, you are welcome to take breaks and step outside anytime you feel overwhelmed.
The third concern is usually around confronting illness, death, and our own mortality. The lab environment is reverent, supportive, and collaborative. We have daily share circles as well as pre- and post-zoom calls to process, share, and pay respects. Expressing emotions is okay and normal. We love you.
See what cannot be described.
Meet like-minded friends.
Jules Mitchell, MS, LMT, ERYT 500 is the author of Yoga Biomechanics: Stretching Redefined. She leads continuing education courses both online and worldwide, runs her own 300hr yoga teacher training program, is a mentor and coach, and leads the occasional yoga retreat. Her time spent in the lab over the years has informed much of how she teaches and she is thrilled to have to opportunity to share the experience with you.
Lessons From The Lab | The Plantar Tendon
Lesson From The Lab | The Incredible SI Joint
Lessons From The Lab | Kindness
Lessons from the Lab - Ribs and Sternum
Lessons from the Lab - Knee Joint Capsule